Lightning Speed Stems - v4.3
We are excited to announce the Fadr v4.3 update! We've been working hard to ensure you can get your stems back in the least time possible. We've also added the all-new help page, where you can find documentation and tutorials on all things Fadr. Finally, we just launched a referral program which anyone can join.
Lightning Speed Stems
First - what you're probably most interested in - is our new Lightning Speed update to stems. We've thoroughly optimized every component of our stemming process to reduce time needed to stem a song by nearly 50%! That's right, the average processing time per stem has dropped from 45 seconds to just 23 seconds! We've expanded our AI model to leverage hundreds of processor cores and hundreds of gigabytes of RAM all at once, dedicated just to stemming your songs. We hope you'll enjoy this unprecedented stemming speed as much as we do.

Help Page The Help Page is the one-stop location for learning Fadr. There, you will find extensive documentation about all Fadr features, including the Stems and Remix pages, which details all of the features currently available. You will also find Fadr tutorials, which are shorter articles aimed to help with using the more basic of Fadr. At the end of each article is a form to submit feedback, so please let us know if you found the documentation or tutorials helpful or have suggestions for improvements.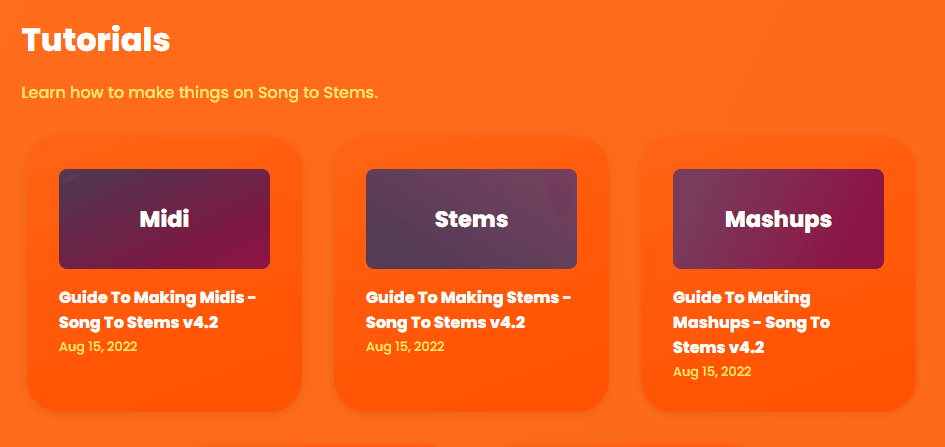 What's Next?
Coming soon in our next update will be a new page to easily share your Remix creations with anyone!
As always, thanks for using Fadr, and we can't wait to hear what you make next! Send us your creations on Instagram and Tik Tok! If you have any feedback or suggestions for the site, please fill out our Contact Form.