Create
Pick an app and upload a song.
Remix
Make remixes with Fadr AI.
Stems
Extract vocals & 12 instrument types.
Revoice
AI-swap any singer's voice.
Welcome to Fadr
The best place to create and share remixes.
No Experience Needed
If you can imagine it, you can make it on Fadr. You don't need to know music theory, mixing, mastering, or music software.
Get started >
Unlimited and Free
Ninety percent of Fadr is free for unlimited use. And Fadr Plus is just $10/mo or $100/yr.
Learn more >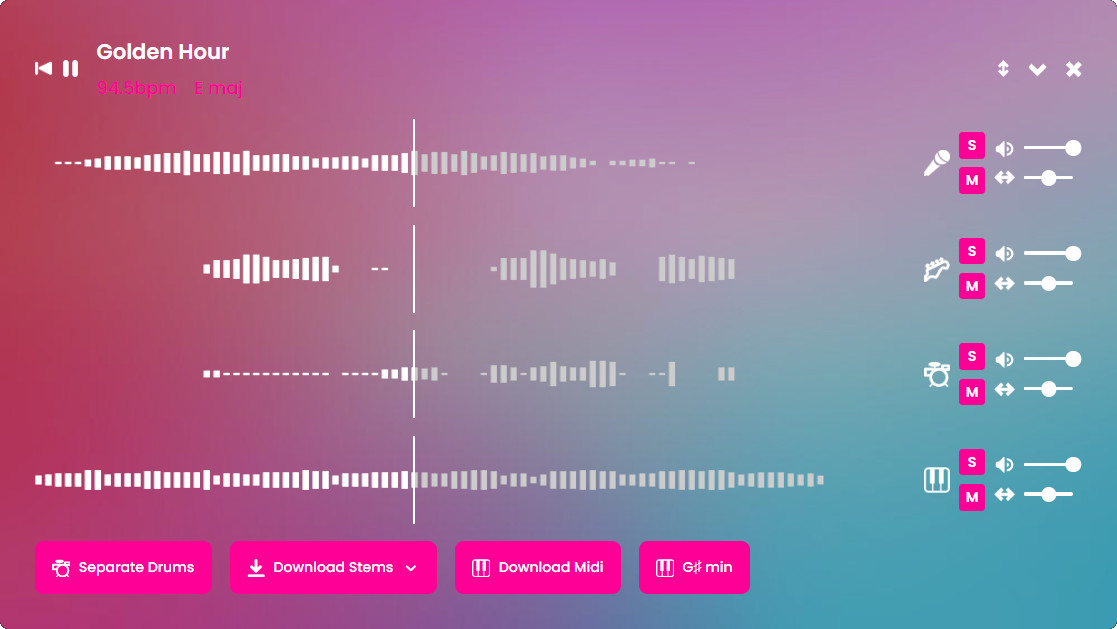 How Fadr Works
Upload songs and remix them with AI.
Upload Songs
Upload music and Fadr AI prepares it for remixing. Fadr can separate any songs's vocals and instruments, find the bpm, key, and chord progression, extract midi, and more.
Upload Songs >
Make Remixes
Produce and DJ remixes and mashups with your songs. You make all the creative decisions while Fadr synchronizes, masters, and more.
Make Remixes >
This song was separated into tracks and remixed on Fadr.
Step 1
Original Song
This remix started as The Ones by Julien Earle.
Next
Step 2
Stems
Fadr AI separated the vocals and instruments. Press play and click "S" and "M" on the right to solo and mute each track.
Next
Step 3
Remix by .NET RUN
.NET RUN used Fadr to make this remix which won $1000 for 1st place in a Fadr Remix Contest.
Next
Fadr Basic
Free
Upgrade any music workflow with access to Fadr's remix technology.
Fadr Plus
Unlock pro status with unparalleled access to Fadr's top tier of bleeding-edge music tech.
Separate Songs Into:
Vocals
Bass
Melodies
Drums
Kick
Snare
Hihat
Piano
Electric Guitar
Acoustic Guitar
Strings
Wind
Other Melodies
Individual Melody Stems
NEW
Frequently Asked Questions
Can I really use Fadr for free?
Does Fadr take feature requests?