Instantly Mash Up Any Two Songs With AI - v4.0
V4.0 marks the biggest and most comprehensive update on Fadr to date. Today we are releasing Remix, a first of its kind music creation tool allowing you to instantly create AI-synchronized mashups from any songs. Our vision at Fadr is to allow everyone to create new types of music, regardless of technical skills and knowledge of music theory, and Remix is our first step towards that. Remix is available now at fadr.com/remix, and is included in every Fadr subscription.
AI Stem Synchronization
The underlying foundation driving Remixes is our AI tempo and key detection. Whenever you stem a song, the key and tempo will be computed automatically. The key and tempo will then be associated with every stem, allowing seamless synchronization of any combination of stems. The number one factor to creating amazing-sounding mashups is aligning the beats of every stem perfectly, and our engineers have spent countless hours ensuring that our tempo detection is 100% accurate. We have also refined our key detection so any stems will match melodically when combined.

In-Browser Playback Engine
The fully revamped Remixes interface allows you to create remixes directly in your browser. You can drag and drop any stems, then press play to hear your newly created remix. Our cutting edge playback engine will instantly adjust the tempo and pitch of every stem on-the-fly to match your desired tempo and key. Each stem can then be fine-tuned by shifting them in time or applying additional stretching, and they will remain aligned to the beat. Once you are happy with your remix, you can render a higher quality version on our servers by clicking download.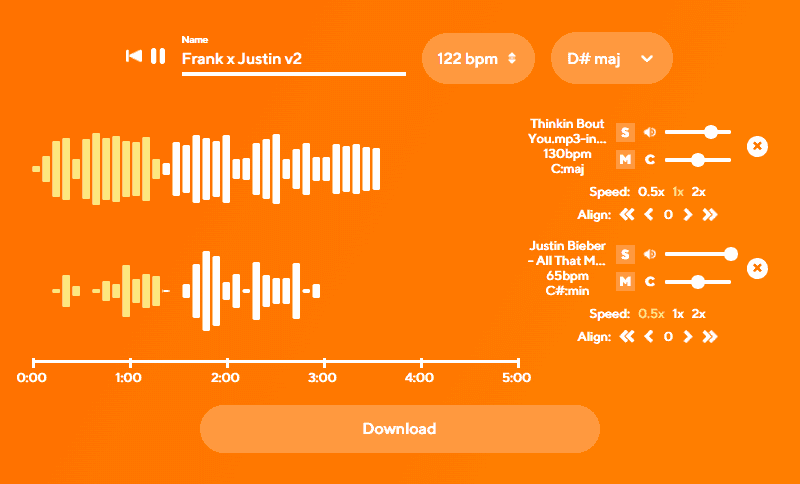 For more information about extracting the midi from songs with Fadr, please see the tutorial at the Help Page.
As always, thanks for using Fadr, and we can't wait to hear what you make next! Send us your creations on Instagram and Tik Tok! If you have any feedback or suggestions for the site, please fill out our Contact Form.